Shipping & Delivery
Shipping
We ship to any street address in Canada and in the United States (excluding Alaska and Hawaii). We do not ship to PO Boxes, APO/FPO addresses, or any U.S. territories. If your delivery address is in Canada, please refer to the Canadian website.
tRACK STATUS
To track the status of your order, please visit My Orders in My Account. For orders shipped by FedEx, you may refer to your tracking number.
fEDEX GROUND
Accessories and select furniture items ship via FedEx Residential Ground. The cost of shipping depends on the destination and weight of the parcel, and will be calculated at checkout. For all in stock items, your order will be processed winthin 2 to 3 business days. Please note that an adult may have to sign to receive the order. Please refer to your tracking number for more information.
LOCAL IN-HOME DELIVERY SERVICE
Orders will be processed within 4 to 5 business days for all in stock items. The transit time begins the first full shipping day after the package leaves our facility in Saint-Laurent, Qc. You will be contacted by the transporter when the order has reached the local delivery hub to schedule a delivery date and window (between 8am and 9pm). Your order will arrive at the local delivery hub within 2 to 6 weeks. Our in-home delivery service includes delivery to the first room of residence, but is not room specific. For a condo or apartment, the service includes delivering the merchandise into the condo or apartment, with a maximum of two flights of stairs (unless an elevator or freight elevator is available).
Prior to receiving your merchandise, we ask that you confirm specific measurements that relate to your home and furniture.
You may refer to the guidelines below to help facilitate your delivery.
1) Measure your furniture
Furniture dimensions are available online on the product page. Dimensions available on our website are presented in the following format: Width x Depth x Height in both centimeters and inches.
2) Measure your living area
In order to ensure a safe and efficient passage for the delivery team, measure the heights and widths of hallways and door accesses. This includes elevators for apartment/condominium buildings.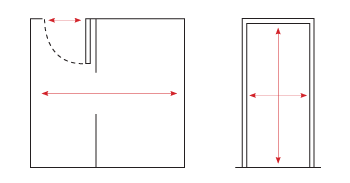 3) Prepare your home for delivery
The passage from the outside entry to the desired resting place should be clear of any debris or obstructions to the best of your ability, including ice or snow. Objects such as ceiling fixtures, paintings, rugs, and other stationary items in your home must be cleared from hallways, entry ways and living areas. Moreover, we cannot alter or change any doors, trims or moldings in your home.
The delivery team is not responsible for unpacking or assembling your merchandise or removing debris. Old items will not be moved or disposed of.
These helpful tips serve solely as a guide and do not guarantee that your furniture will fit in the desired location. Please contact us for additional information on our delivery policies.
4) In-home delivery
The transporter will confirm a non-negotiable delivery window (between 8am and 9pm) once they have received your merchandise.
Structube cannot be held responsible if the transporter is unable to respect the provided window due to unpredictable circumstances.
An adult must be present to accept the delivery.
Each delivery is on a single address basis.
5) Delivery procedures
Many of the items will be delivered ready-to-assemble.
Delivery personnel will not unpack or assemble products nor remove debris. Old items will not be moved or disposed of.
In the event that the elevators are not available or nonexistent, the delivery personnel will deliver up to a maximum of two (2) flights of stairs.
The customer must allow safe access to the site. All obstacles and walkways must be cleared before delivery. The responsibility is incumbent on the customer to measure all doorways, hallways and stairwells.
Upon delivery, there will be no alterations to any doors, trims, moldings or light fixtures to accommodate passage of the products. Should the merchandise not fit through the passage, the delivery charge will not be refunded and a return fee may be charged.
The delivery personnel will not remove their safety boots. Please ensure to protect your floors for the delivery.
6) Inspecting your delivery
Upon receipt of your order, please ensure that you have received all the items purchased. Your packing slip will be affixed to one of your boxes in a red envelope. It is recommended that you review your packing slip and order details before the delivery personnel leaves, and advise them of any discrepancies.
Please indicate on your packing slip any occurrence during the delivery and contact us as soon as possible. The transporter will not accept responsibility for any damages which have not been indicated on the packing slip.
If you find any damage on your merchandise, keep all contents and their original outer and inner packaging. Please contact us immediately following your delivery to ensure that proper action is taken.
All Structube products carry a one-year warranty. The warranty does not cover regular wear and tear, discoloration due to exposure to light, misuse, shrinkage or peeling of materials, or abusive wear.
7) Rescheduling/cancelling your delivery
Should you be unavailable for the scheduled delivery, another delivery fee may be charged for rescheduling or cancelling the order while the merchandise is in transit. Please contact us for more information on transit delays.
browse by category
About Us
Website