Shipping & Delivery
FEDEX RESIDENTIAL GROUND
Accessories and smaller items ship via FedEx Residential Ground. The shipping cost is calculated at checkout and is determined by the destination and weight of the parcel. Orders shipped via FedEx are delivered Monday through Friday, between 8am and 5pm. Please note that a signature may be required upon reception of the order.
IN-HOME DELIVERY SERVICE
Larger items or orders containing multiple items are delivered through our local in-home delivery service. All orders that are ready to ship must be delivered within 30 days of becoming available. Your order may take between 2 to 4 weeks to arrive at the transporter's facility. Once the transporter receives your merchandise, they will confirm a delivery date and window, between 8am and 5pm. Our in-home delivery service is a threshold delivery service, which is not room specific. For a condo or apartment, the service includes delivering the merchandise into the condo or apartment, with a maximum of two flights of stairs (unless an elevator or freight elevator is available).
IN-HOME DELIVERY POLICY
Orders must be scheduled for delivery within 30 days of becoming available to ship. Each delivery is on a single address basis and an adult must be present to accept the delivery.

The transporter will confirm a non-negotiable delivery date and window, between 8am and 5pm. Structube cannot be held responsible if the transporter is unable to respect the provided window due to unpredictable circumstances.
DELIVERY PROCEDURES
Many of the items will be delivered ready-to-assemble. Delivery personnel will not inspect, unpack or assemble products nor remove debris. Old items will not be moved or disposed of. In the event that the elevators are not available or nonexistent, the delivery personnel will deliver up to a maximum of two (2) flights of stairs. The customer must allow and ensure safe access to the site for the delivery personnel and transportation vehicle (including an appropriate parking area). All obstacles and walkways must be cleared before delivery. The responsibility is incumbent on the customer to measure all doorways, hallways and stairwells.
Upon delivery, there will be no alterations to any doors, trims, moldings or light fixtures to accommodate passage of the products. Should the merchandise not fit through the passage, the delivery charge will not be refunded and a return fee may be charged. The delivery personnel will not remove their safety boots. Please ensure to protect your floors for the delivery.
INSPECTING YOUR DELIVERY
Upon receipt of your order, please ensure that you have received all the items purchased. Your packing slip will be affixed to one of your boxes in a red envelope. It is recommended that you review your packing slip before the delivery personnel leaves and advise them of any discrepancies.

Please indicate on your packing slip any occurrence during the delivery and contact us as soon as possible. The transporter will not accept responsibility for any damages which have not been indicated on the packing slip. If you find any damage on your merchandise, keep all contents and their original outer and inner packaging. Please contact us immediately following your delivery to ensure that proper action is taken.

Our products carry a one-year warranty covering manufacturing defects. The warranty applies only to a household use of our products. The warranty does not cover regular wear and tear, discoloration due to exposure to light, misuse, shrinkage or pilling of materials, or abusive wear.
MODIFYING/RESCHEDULING/CANCELLING YOUR DELIVERY
Your order, shipping address and contact information cannot be modified within three (3) business days of the scheduled shipping date and/or once your order is in transit. Additional fees may apply for any modifications made to the order during this period.

Should you be unavailable for the scheduled delivery, another delivery fee may be charged for rescheduling or cancelling the order within three (3) business days of the scheduled shipping date and/or while the merchandise is in transit.
PREPARING FOR YOUR DELIVERY
Please verify specific measurements relating to your home and new furniture prior to receiving your delivery. These helpful tips serve solely as a guide and do not guarantee that your furniture will fit in the desired space.
Measure your furniture
Furniture dimensions are available on our website on each product page. The dimensions provided on our website are presented using the following format: Width x Depth x Height, in both centimeters and inches.
Measure your living area
In order to ensure a safe and efficient passage for the delivery team, measure the heights and widths of hallways and door accesses. This includes elevators for apartment/condominium buildings.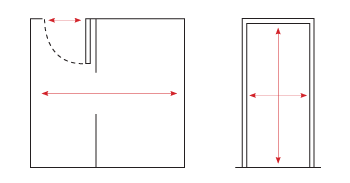 browse by category
About Us
Website